this weekend we'll be cleaning out the garden from the heavy rains this week from tropical storm olivia. thank goodness it wasn't as strong as anticipated but it did do some flooding in certain areas. thoughts also for those in the wake of hurricane florence.
Perseverance: The Seven Skills You Need to Survive, Thrive, and Accomplish More Than You Ever Imagined- by Tim Hague - Looking forward to starting this book this weekend. Tim was diagnosed with PD at age 46 and is now a motivational speaker.
Lovely Day - Bill Withers - You've got to listen to this song in the morning. It's a great way to start the day!
Did you know that the New York Public Library has more than 180,000 digital photos that you can download for free? Browse this amazing collection of anything you can think of. Here are few cool drawings that I printed out and framed for art.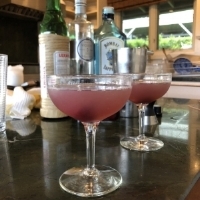 We enjoyed this beautiful and delicious cocktail with homemade brandied cherries and is a great way to kick off the weekend.